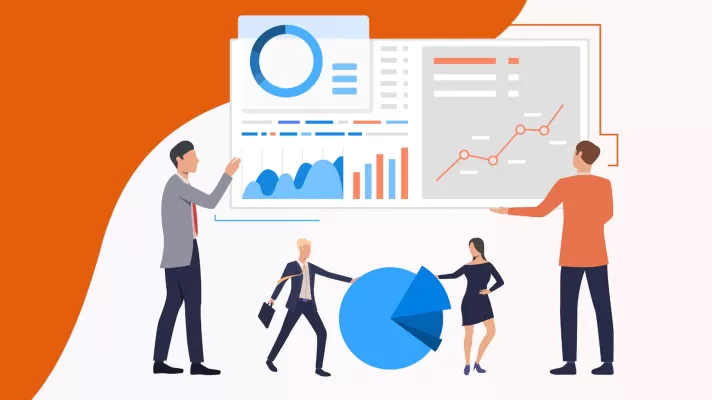 With a host of competitors out there all targeting the same customers, how do you ensure your business stands out from the crowd?
Introduction
With a host of competitors out there all targeting the same customers, how do you ensure your business stands out from the crowd? You guessed it right—by doing a thorough competitive analysis. To be successful in the competitive business world, providing valuable products or services isn't enough. You also need to find out who you're competing with, what they offer to the market, and much more, so that you can:
Discover potential opportunities and threats
Understand where your business is doing well, where you need to adjust, and evaluate trends in your sector
Enhance your products or services, and promote your business innovatively to outshine your competition
Develop better strategies
And such an analysis is especially important in the software market where 66% of the average company's sales opportunities are competitive:
Steps to Do Competitive Analysis the Right Way
Here are the steps involved in conducting your competitive analysis.
Identify Who to Benchmark Against
The first step in this guide on how to do a competitive analysis is to identify your top 5 competitors.
There are three different kinds of competitors to focus on, which are:
Substitute or replacement competitors: These are businesses whose products or services are different from yours but can be used as alternatives to yours by the customers you target within your geographic area.
Direct competitors: These are businesses that sell similar products or services to yours to the same customers you target in your geographic area. For instance, let's say you do accounting for startups and so do they.
Indirect or secondary competitors: These are businesses that offer products or services that solve the same customer problems as yours, but do it differently.
New entrants: These are competitors that are entering the market, offering similar products or services to yours.
Identifying your target competitors is a great idea to get a different perspective on your business as well as your customer base.
According to the Crayon survey mentioned above, 90% of competitive intelligence leaders say they collect intel for their competitive analysis from direct competitors.
Leverage Research Tools
One of the most effective ways to do competitive analysis is by using research tools. This is especially important when you want to identify multiple competitors. Here you can leverage the right SEO tools available in the market.
With research tools, you can cut the time spent in the whole competitive analysis process by half or even three-quarters.
The good thing is that there are plenty of online research platforms that can make the process simpler and more efficient.
Semrush is one of the most popular and powerful ones among them.
It not only helps you identify your organic competitors but also provides you with detailed information about your current performance on the internet including traffic, search engine rankings, and more.
Read this Semrush review by Attrock to understand how to use the software efficiently to discover your competitors and narrow your gap with them.
Conduct a Product or Service Analysis
The main aim of the entire competitive analysis is to understand how to deliver products or services to your customers in a way that your competitors don't. This is why you should analyze your competitors' products or service delivery.
Of course, you know that your competitors' products or services solve the same problem as yours. But, you also need to know the following:
How your competitors price their products or services differently from yours
What key features do they offer that you don't?
Features that are lacking in their products or services
From there, find out their customers' journey from purchasing to using the product.
Understanding your competitors' product or service delivery will help you understand the customer experience and how satisfied your competitor's customers are.
Asses Your Competitors' Online Presence
Now that you have a list of top competitors, take your competitive analysis process a step further by evaluating their online presence.
Here, you need to check the functionality of their websites. Evaluate their websites' user-friendliness and how they are engaging with their audience.
Examine their website personalization and video personalization tactics to see how their websites' homepages are designed, product recommendations, CTAs, and other website elements.
Ideally, you need to ensure your website is attractive, easy to use, and engaging to stand out from your competition.
Explore Online Review Sites
Review sites like Capterra, G2, Google, Get App, and other online channels like Facebook, Twitter, and Yelp are great places to read customer reviews to see what customers are saying about your competitors.
If they have active social media channels, check how they reply to questions, complaints, and negative comments.
Reviews can help you understand the customer experience your competitors provide. Examining their negative comments and reviews is a great way to know what they are doing wrong and find out ways to do things better than them and get an edge.
Furthermore, their positive reviews can help you determine where you excel and how you can improve even better.
Understand Their Sales Tactics and Results
Almost every business now offers their products or services online. However, how you go about promoting yours could be different from what your competitors do and that could be the reason they might be outshining you.
This is the reason you need to find out the following about your competition:
Their sales process
Top channels they use to promote their products or services
What partner reselling programs do they use?
Whether they have multiple selling locations and how this is benefiting them
What's making their customers not buy from them?
Their yearly revenue
Whether they offer discounts for their products or services
Gathering all this intel will help you understand how to equip your sales reps or improve your sales tactics to beat your competition.
Reach Out to Your Competitors' Customers
Another effective way to conduct competitive analysis campaigns is, of course, to ask your competitors' customers.
As you explore online reviews of your competitors' products or services, identify people who you can contact to get more information about your competitors.
Remember that since you don't have prior relationships with these customers of your competitors, you need to steal some ideas that you use when running your cold outreach campaigns.
This will help you convince your competitors' customers to give out important information you want about your competitors.
Also, you need to ask them what they want that your competitors aren't offering or how they wish your competitors could avail their offerings to them.
Conclusion
Conducting an effective competitive analysis doesn't have to be complicated. and because you already have valuable assets that form the basis of your differentiators, including your domain expertise, marketing knowledge, and skills, leveraging the tactics we've discussed above should be able to help you determine how you can outshine your competitors.